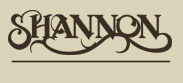 SHANNON VOYAGER 36 EXTERIORS
The Shannon Voyager 36 offers two exterior choices: Flybridge or Express. Every Shannon is built to the highest construction and equipment standard in the industry at our state-of-the-art factory in Rhode Island. The Shannon Voyager 36 uses only proven state of the art composite technology for strength and long-term durability. The hull is cored with closed cell PVC linear foam (NO Balsa) providing exceptional seaworthiness, impact resistance, sound deadening, strength to weight ratios and insulation properties. The most advanced NPG isophthalic gel coat, vinylester resin, unidirectional and bi-axial laminates and full-length stringer grid systems make Shannon's quality unrivaled in the yachting industry.
SHANNON VOYAGER 36 FLYBRIDGE MODEL
The flybridge seats six adults, with two swivel seats and fixed seats. In additon, a built-in 12vt refrigeration unit, wet bar, and a cocktail table are available.